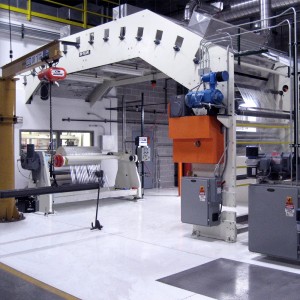 D&K is a vertically-integrated manufacturer of print finishing and coating technologies. D&K offers a wide assortment of laminating films, thermal and pressure sensitive adhesives, custom coated/ toll coated products, and equipment designed to work with today's print engines.
Laminating Films:
Laminating films add a protective barrier and enhance images by augmenting the look and functionality of otherwise plain prints. D&K manufacturers laminating films utilizing Polyester, Nylon, Vinyl (PVC), Polypropylene and Polycarbonate base films. Laminating films are available in a variety of thicknesses, textures and finishes in widths up to 61" wide.
Coated and other specialty laminating films also provide premium finishing options. Products are offered with thermally extruded or or pressure sensitive adhesive technologies that are designed to work with nearly any type of printer output.
Click here for more information on D&K laminating films
Mounting Adhesives, Tapes & Tissues
D&K manufactures a range of mounting adhesives, tapes and tissues designed to stick two or more items together. Whatever the surfaces may be, D&K has a compatible mounting solution with the visual and adhesive properties you require. Mounting adhesives are available in thermal/heat-activated versions and pressure sensitive varieties utilizing solvent acrylic, rubber, or water-based technologies.
Click here for more information on D&K mounting adhesives, tapes and tissues
Adhesive Technology
Laminating films and mounting adhesives are manufactured with an extensive selection of leading-edge adhesive technologies. Adhesives are configured to work with the required application, from graphic finishing to product fabrication. Common adhesive options SuperStick digital adhesives, heat activated (thermal extrusion), pressure sensitive (cold) and heat assist configurations. In addition to standard laminating film and adhesive products, D&K offers custom thermal adhesive extrusion/ thermal adhesive coating along with custom pressure sensitive adhesive coating.
Click here for more information on D&K adhesive technology
Coating Technology:
Leading coating technologies including slot die, direct gravure and microgravure capabilities allow D&K to offer advanced solutions beyond standard film products. D&K coating technologies include printable products, top coats, optically clear coating, scuff resistant finishes, pattern adhesives and much more. D&K offers custom coating and toll coating or customers requiring advanced product solutions. Additionally, custom thermal adhesive extrusion is also available for OEM and other customer requirements.
Click here for more information on D&K coating capabilities
Custom Product Design:
When your application requires an advanced product configuration or modified production equipment, D&K provides custom solutions to accommodate your needs. D&K offers custom coated and toll coated products manufactured with thermal adhesive extrusion and advanced pressure sensitive coating technologies. Our machine department also manufactures custom laminating equipment and components that are easily integrated into your workflow.
Click here for more information on custom coating
Click here for more information on custom machine design
Converting:
Converting capabilities allow D&K to provide rolled or sheeted products in finished sizes up to 61" wide. Products are available in standard widths and lengths or can be custom cut to increase productivity and reduce waste when processing jobs.
D&K Company Overview View