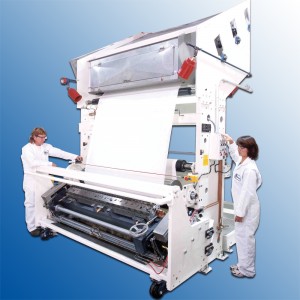 ISO 9001: 2015 Certified
D&K Coating Technologies, Inc. is a sister company of D&K Group. D&K Coating Technologies specializes in custom coating and toll coating of high-tech pressure sensitive applications utilizing state-of-the-art slot die and gravure coating technology. Custom coated and toll coated products developed by D&K Coating Technologies can be found in a number of diverse industries including automotive, aerospace, display graphics, electronics, medical devices, solar power, and more. The production facility is ISO 9001: 2015 certified. Click here for more ISO information.
D&K Group also offers custom thermal extrusion adhesive coating for heat-activated products. D&K manufactures a wide variety of thermal laminating products with different melting points and adhesion characteristics. Whatever your lamination project requires, D&K has the adhesive coating solution.
Capabilities:
D&K Coating Technologies offers slot die, direct gravure, and microgravure coating capabilities up to 61" wide (finished width). A white room environment provides custom coating solutions including:
Printable products
Top coats
Optically clear coatings
Scuff resistant finishes
Pattern adhesives
Transfer adhesives
Solvent, water-based, and silicone pressure sensitive adhesives
Thermal adhesive extrusion
Custom Products Examples:
Anti-reflection and anti-static films
Conductive films and papers
CRT display films
Decals
Decorative films and foils
Flexible circuit laminates
Heat transfer films
Label stock
Medical products
Packaging products
Solar components
Tapes
Window films
Thermally extruded adhesive films
Much more
Custom Coating/ Toll Coating Process:
D&K Coating Technologies works with clients to offer a variety of coating options. Customers can provide raw materials or allow D&K to source these through an extensive supplier network. A 3 – 4 week lead time is typically required for custom coating and toll coating projects.
State-of-the-art process controls regulate all coating operations including tension, speed, temperature, air flow, oven pressure, evaporation rate, and roll size. Integrated beta scanners also continuously measure coat weight application and allow for precision adjustment to coating dies. Our thermal adhesive extrusion department in Elk Grove Village, IL also offers precision thermal adhesive extrusion for custom coated and toll coated products of all types.
Quality Assurance and Reporting:
Quality assurance testing is performed on every master roll until process capability has been confirmed, typically after 30 master rolls. After that time, Q.A. testing is performed on every third master roll. Rolls are tested for adhesive and physical properties including peel, shear, thickness, gloss, and more. A certificate of analysis along with yield/material inventory report will be available within seven days after a run.
Three cross web samples from the end of each roll are retained and stored for two years. Each roll includes a roll report and defect map in the packing list.
Partnership:
Regardless of the final application, D&K is committed to providing the best possible custom coating and toll coating solutions at an affordable price. D&K respects customer privacy and maintains utmost confidentiality with all custom coating projects.
Click here to contact D&K for more information on custom coating and toll coating.
Click here to download the D&K Coating Technologies brochure.