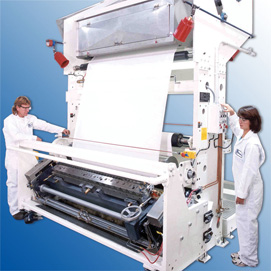 Partnership
D&K Coating Technologies develops meaningful partnerships with customers to make custom coating projects simple and efficient. Our experienced staff can manufacture a wide variety of materials on our state of the art equipment.
Raw Materials
D&K Coating Technologies works with an extensive supplier network to source raw materials, or customers can provide their own components for coating. Most custom coating projects require a 3 – 4 week lead time.
Coating
The coating process is regulated by state-of-the-art technology that controls all aspects of the coating and roll profile. Physical properties including tension, speed, air flow, evaporation rate, oven pressure and more are carefully controlled to produce products that meet your specifications. Integrated cleaning rollers help keep materials free from contaminates while beta scanners constantly measure coat weight to ensure accurate results.
Specifications
Master rolls can be manufactured in widths up to 62" wide with a diameter up to 40" and a maximum weight of 2,000 lbs. Products can be provided in a master roll format or converted to slit rolls or sheets.
Good Manufacturing Practices
The production facility is maintained at a level of cleanliness that conforms to "Good Manufacturing Practices (GMP)." D&K Coating Technologies also uses thermal oxidizers during the coating process to remove pollutants before they are released into the environment. We work closely with the EPA and other regulatory agencies to ensure that products are manufactured safely and without environmental impact.