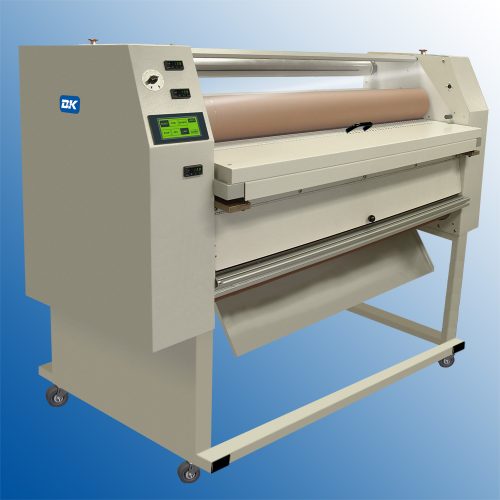 The Expression® (EXP) 44 Twin Laminator offers thermal laminating and mounting capabilities up to 43" wide. The EXP 44 Twin features a unique setup with two sets of nip rollers designed to laminate graphics on the top rollers and mount images to boards on the bottom without tearing down and re-webbing the machine each time. This wide format system is ideal for print-for-pay shops and other locations that require the ability to easily mount and laminate graphics.
Description
Features
Two sets of rollers, dual heated rollers on the top and top heated roller on the bottom.
Laminate/encapsulate on the top rollers and mount on bottom rollers without re-webbing the machine.
Foot control for hands-free operation.
Swing-out mandrels for roll changes.
Digital touch screen.
Photoelectric eye and emergency stop buttons for operator safety.
Vacuum feed table holds media in place before entering the laminator.
Specifications
Working Width: 43″
Laminator Width: 62″
Height: 53″
Depth: 43″
Net Weight: 850 lbs
Shipping Weight: 1100 lbs
Speed: Bottom Roller – 1 fpm
Maximum Temperature: 230° F
Maximum Aperture: 1/4″
Roller Diameter: 5 1/2″
Air: N/A
Electrical: 220V single phase 30 amps w/neutral Foot Pedal

Made in the USA