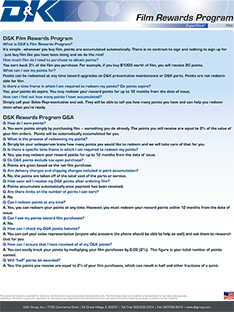 Customers that purchase laminating films from D&K are automatically enrolled in a film rewards program. This program provides discounts on parts and preventative maintenance on equipment purchased directly from D&K. In fact, many D&K film users receive totally free maintenance on their D&K laminating equipment.
There is no contract to sign and no annual fees – simply purchase film from D&K and points are automatically added to your account. Under this program, customers receive 2% back on all film purchases. For example, purchasing $1,000 of film will result in 20 rewards points.
Points can be redeemed at any time and expire 24 months from the date of issue. Terms and conditions apply. Click here for more information on D&K's rewards points program.